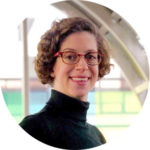 MARLOES MEDDENS-BAKKER
LAWYER (ADVOCAAT)
Marloes is specialized in the areas of intellectual property law, advertising law and media law. She has gained widespread experience with proceedings regarding copyright law and trademark and design law. She represented clients before both national and international judicial authorities as well as before the trademark offices of the Benelux (BOIP) and European Union (EUIPO). Within the area of advertising law she has carved out a strong niche in pharmaceutical advertising. She regularly represents clients before the self-regulatory code committees of the Dutch Medicines Advertising Code Foundation (CGR)
Notwithstanding her extensive litigation experience, Marloes also appreciates providing her clients with advice before they get involved in a conflict. Just like the other lawyers at The Law Factor, Marloes has a passion for innovators. She enjoys helping them to protect, distinguish and advertise their product or service. Marloes understands that her clients want to deal with the core of their business. She thinks it important that they can rely on her for the legal aspects thereof.
Marloes is a member of the Dutch Pharma and Law Association (VFenR), The Netherlands Advertising Law Association (VvRr), the Dutch Privacy Law Association (VPR), the Dutch Association for Intellectual Property Litigation Lawyers (VIEPA) and the Benelux Association for Trademark and Design Law (BMM). In 2012, the BMM awarded Marloes the Wim Mak Award for her article "Farmaceutical trademarks in register conflicts", published in the BMM Bulletin. She is also editor of a journal on pharmaceutical law (Journaal Farmarecht).
Before Marloes joined The Law Factor in 2016, she worked more than eight years with the intellectual property niche firm Klos Morel Vos & Schaap in Amsterdam. Marloes was educated at the University of Amsterdam and the University of Essex (Colchester, UK). During her studies she worked at the Institute for Information Law (IViR).
Marloes Meddens-Bakker is a registered Intellectual Property lawyer in the Dutch Bar Association's Legal Area Register. This registration means she has to follow courses on this subject which meet the Bar's standards and which award her a minimum of ten education points per year. The Legal Area Register is an important objective measure to substantiate the quality of the bar, both in the interest of the attorney and those seeking legal advice.
Marloes lives in Hilversum with her family and provides her services from The Law Factor's office at the Mediapark.